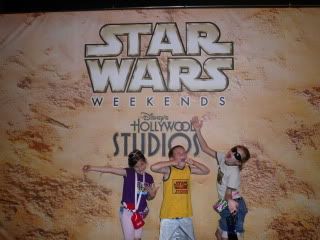 Our first day was Sunday of a Star Wars Weekend. I knew my youngest would get a kick out of it. Steven was one of the selected Jedis for the first Jedi training of the day. We were able to waitlist all 3 for the first Padawan trivia contest and they all got in. Whew.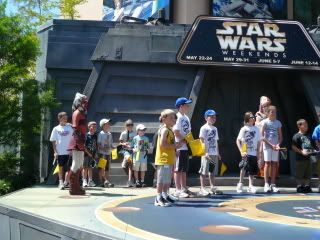 The character lines were super LONG so we avoided those [bummer] but random storm troopers and sand people were very interactive. We enjoyed the Star Wars parade at 11:15 and the finale, the Hyperspace Hoopla at 7pm. It was a hoot.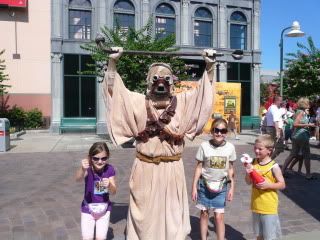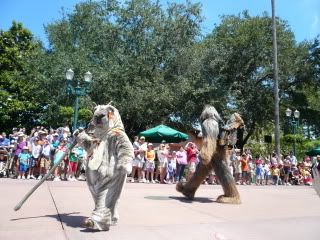 We also did toy story mania [so much fun], lights motor action.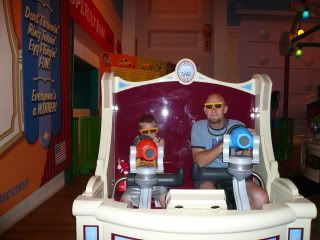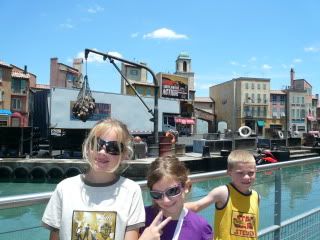 We spent a lot of time in the Star Wars gift shop. It was cool just looking at everything.
As the day went on it was more and more crowded. We were worn out when the day ended.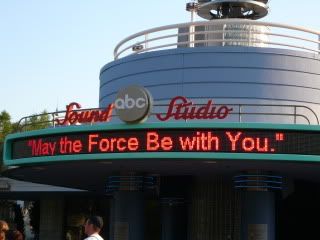 So we let the kids pick favorites to repeat...Studios was a winner. It was MORE crowded [it seemed] than Sunday Star Wars day. That day was a non-recommended crowd day so we expected this to be a little better...but this was a with warning day because of the 2 shows of Fantasmic....
But, we were only doing favorites and it didn't take much time at all...we were in line 30 minutes early....were able to ride TSM, see UP characters and Mickey with the sorcerer hat [UP was our longest wait this week. LOL], do IN Jones [did LMA Sunday], watch front row HSM3, ride RnR [fast passes earlier]...by NOON.
Grabbed fastpasses for RnR and TOT [2 wanted to do RnR and 3 TOT] and headed to DTD for lunch finally get the souvies over with and back to condo....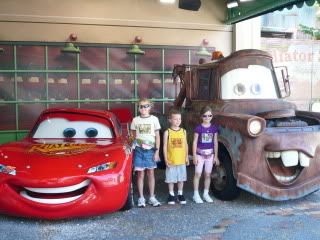 Finally did the Animation Lab. it's hard to find. You go inside. Not into the Magic of Disney Animation [Mushu] that they try to usher you into. Walk inside where the characters are and go up to the little waiting area. We got to draw Goofy. It was fun. And you get to keep your drawing.
We also got great pics with the Up characters and there was no line for Mickey in the Sorcerer's hat.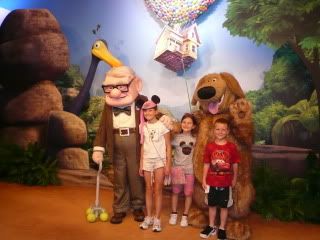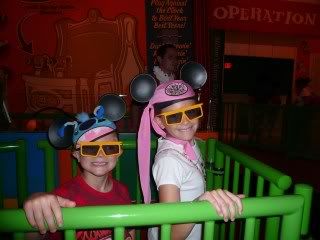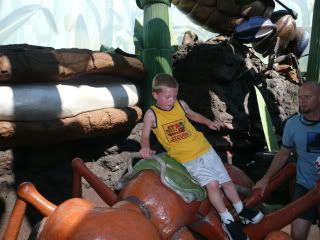 We took a break...got the ever important fast passes BEFORE leaving. Upon return we went straight to Fantasmic at 7:30 when the line was starting to be allowed in. Perfect timing. We got seats and took turns enjoying the fastpasses we got before We left condo at 7pm...were in line for Fantasmic at 7:30....so you know how quick to get to park, checked in, and walk to Fantasmic with 3 kiddos from Windsor Hills.
Fantastic time! People were still able to get seated at 8:30 ish....it was full though and we had great spots plus had packed snacks and gameboys, ds, etc.Then sat back and enjoyed the [I have to say it] FANTASMIC show.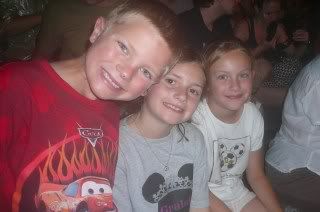 Show ended at 9:30 and we left park at 9:52....home within 10-15 minutes. Perfect!