Epcot was a haven amidst the summer Disney crowds. It was crazy how different the crowds felt here. Partly because it's such a large park and partly because everyone else must have been at MK, AK and Studios because they were BULGING.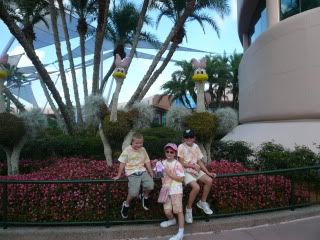 The favorite this trip was the new Kim Possible. What fun!! Definitely sign up right away so you can do a few in the afternoon before your break. Ideally get a new FP for the ride before you leave for break BUT make sure to come back before it closes at 7:45 pm to do it!! We didn't know and got back as they were closing. Oy. We were able to do 2 missions one day and 2 the next so all was not lost. It was loads of fun and I finally saw some countries besides Norway and Mexico!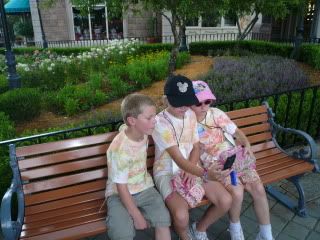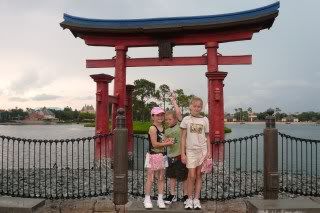 Of course Soarin and Test Track are favorites as always. We also LOVE the Innovations areas. Bummer that the make your own robots aren't there anymore. But they LOVED the velcro frogs...very entertaining in the car as they stick to the inside roof. Convenient! The fire house, the be your own video game star were highlights. These places were really uncrowded as the masses were in line for Soarin.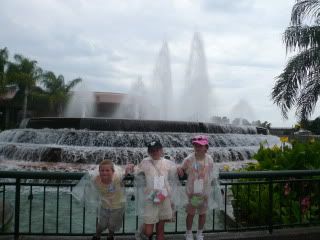 The kids enjoyed Spaceship Earth. Hubby and I thought it was 'ok' but the end everyone enjoyed. We also all enjoyed Journey and the kids and I had fun at Club Cool sampling all the sodas from around the world.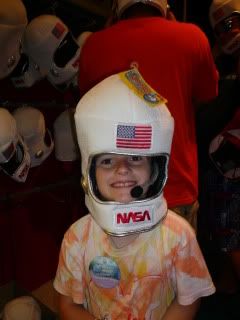 Another great trick we learned is while everyone else is going to get their FP for Soarin, head left at the Character Greet....we were first family one morning...it was fantastic. We had a hard time getting autographs with the crowds this trip so to have Pluto hold my son's hand and walk us in and all 5 to hug and greet us. Well it was great....the only bummer was hubby stayed with the masses to get the Soarin FPs...would have been a great Xmas card! Great memory.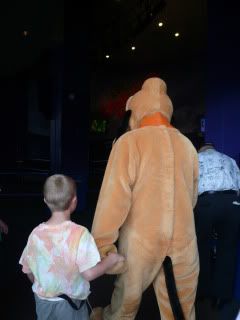 There's just so much interaction here with the Jammitors, the CMs playing hoops, the characters strewn about, the acrobats, etc. I could easily spend my whole week here happily. We didn't see half of what I wanted to see but we're getting there. Gives us a reason to go back!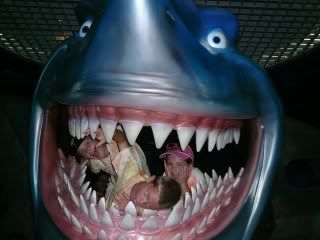 We took a break on the first day early afternoon and went back to enjoy the rides we grabbed fast passes for on way out while I snag a perfect spot for Illuminations. Wonderful way to end the day.