We had an 8:20 reservation at Crystal Palace. So we arrived around 8am to take pictures in front of the castle before crowds. When we walked up there were many people sitting around. We put our name in at 8:15 and were called immediately.
This restaurant is lovely. Nicely decorated. Delicious food. This was our most expensive meal at $120 after tip but a great way to get into the park early and get some character interaction out of the way.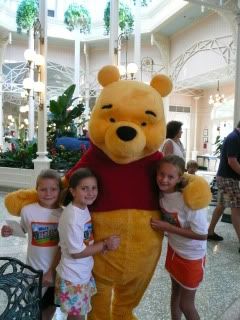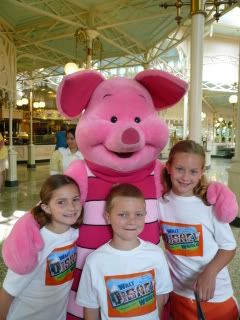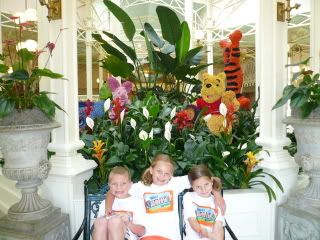 We left the restaurant at 8:55 to line up for rope drop. Not having Space Mountain was a bummer but helped with the plan for the day. Ran into Lady Tremain [Cinderella's evil Stepmother] which was a treat.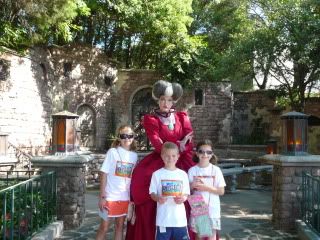 We immediately rode Buzz Lightyear. DH headed off to get FPs for Big Thunder while kids and I rode Astro Orbiter and headed to Toontown. We roamed a little too much and didn't make toontown right at opening...we were a few minutes behind. It was packed...ugh. The line for the fairies was already 30 minutes, but there was no line for the Princesses so we did that happily. The princesses are so much fun!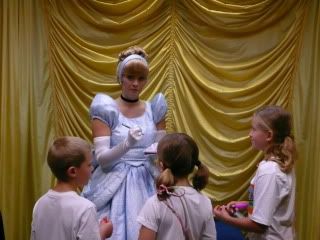 The line was also really long for Mickey and friends so we moved on to Barnstormer. Always so fun. We had a blast.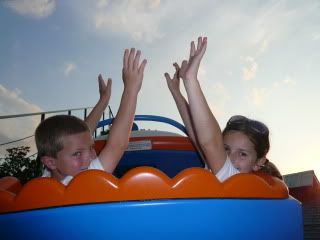 We were able to do the Pirate Tutorial outside of the Pirates of the Caribbean. It was so fun. All 3 kids participated in it. What a hoot.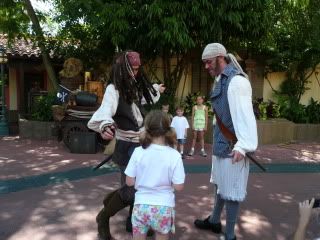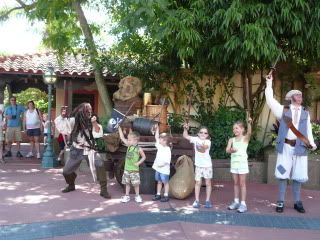 We rode Pirates, Peter Pan, did Mickey's Philharmagic and of course the tea cups.
Splash Mountain and Big Thunder are always treats. We enjoyed both. Working the Fast Pass system is key.
The characters we did see were fun too.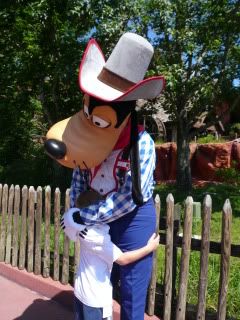 The park was really getting busy so we grabbed a fast pass for big thunder and headed out to return later. We left for a few hours and came back to get seats for Spectromagic. Look for the tape on the ground and ask CM to be sure. We brought a blanket and I spread out while hubby took kids to do Astro Orbiter. We were there a little before 8 pm. The blanket was great because the street was HOT. Plus it helped me mark our spots because people will shove in if they can.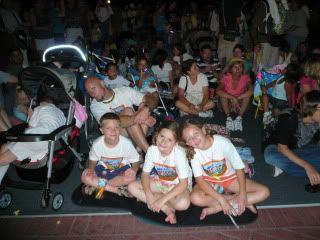 The kids came back and we played a card game while waiting. Perfect-O. Saw the show...great as always and went to ride Splash and Big T during Wishes. Pretty great to ride the rides while seeing fireworks. Then off to deal with UNBELIEVABLE crowd...Oy. Took one hour to get to TTC. That wasn't fun!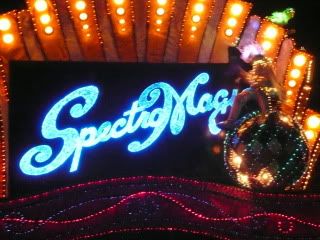 All in all a great day. The kids decided to re-visit the other 3 parks this trip so this was our one and only day here.
The little things at this park make it special.